Vegan food blogger, Julie Resnick takes to social media to share with us the recipe to her yummy, and extremely Creamy Vegan Macaroni And Cheese Bites".
View this post on Instagram
1. BOIL THE CARROT
Yeah! This mac and cheese recipe starts with a carrot – weirdly! It's important mostly for colour but it also adds a touch of sweetness to the cheese sauce. Boil it up good but keep the water – we're going to use that for our pasta.
2. BLEND THE SAUCE INGREDIENTS
Strain out the carrot and put it in the cup of a blender with all the remaining sauce ingredients. You'll need a super-high-speed blender, rather than a food processor, as you want this to be SUPER smooth. No chunks of carrot please.
Blast it in the blender until smooth.
3. COOK THE SAUCE
Until it's cooked, the sauce will be super runny. But once heated, if whisked continuously, it'll thicken into a super glossy, creamy sauce. Transfer the blended ingredients to a saucepan and place over medium heat. Whisk well while it's cooking or it'll end up lumpy.
Once it's thick enough to coat a fork or spoon, take it off the heat, cover and set aside.
4. COOK THE PASTA AND COMBINE
Using the water you cooked the carrot in, cook your pasta until al dente. It's going to be cooked again (either fried or baked) once it's in "bite" form so don't overcook the pasta. Once cooked, drain it and add it to the sauce.
Give everything a good stir and set aside.
5. FREEZE THE MAC AND CHEESE IN MOULDS
So obviously there's no such thing as a "vegan mac and cheese bite mould" so we're going to have to improvise here. I used a silicone finger cake mould (as pictured below) and then sliced them in half when frozen to get cubes. You want the bites to be around 2cm cubed (or oblong-ed) so if you don't have a silicone mould like the one in my picture, your best bet is probably some ice cube trays!
You can also use cupcake tins or MINI cupcake tins if you've got them, but they can be tricky to remove. You can also line a deep baking tray with cling film, fill with mac and freeze as a block then slice into bites once frozen. Either way, fill whatever you're using with the mac and cheese and allow it to cool to room temp before popping in the freezer for a good 5 hours.
6. COAT THE VEGAN MAC AND CHEESE BITES
There are two parts to this crispy coating – the wet batter and the breadcrumbs. So take two small bowls. In one, whisk together the gram flour and the water. In the other, whisk together the breadcrumbs and sea salt.
Working with the frozen chunks of mac, one at a time, dip it in the wet batter then into the breadcrumbs. The breadcrumbs will stick to the batter. Place it on a baking tray and repeat until you've coated all the bites.
You can now pop the coated bites back in the freezer to cook at a later date (be sure to wrap them up good) or you can fry/bake them straight away!
7. FRY OR BAKE THE BITES
To fry these guys (my fave method) be sure to use a deep fat fryer or a high-sided saucepan with at least 2 inches of oil in the bottom. Place over medium heat and bring the oil to around 170c/340f. Be sure to fry in small batches or the oil will reduce in temperature. Fry for around 2-4 minutes until golden brown outside and piping hot inside.
To bake, place on a baking tray and pop in an oven which has been preheated to 190c/375f (fan) and bake for around 25-30 minutes. Again, they should be golden brown outside and piping hot inside.
However you cook them – these guys are best served with marinara sauce (or ketchup if you'e lazy).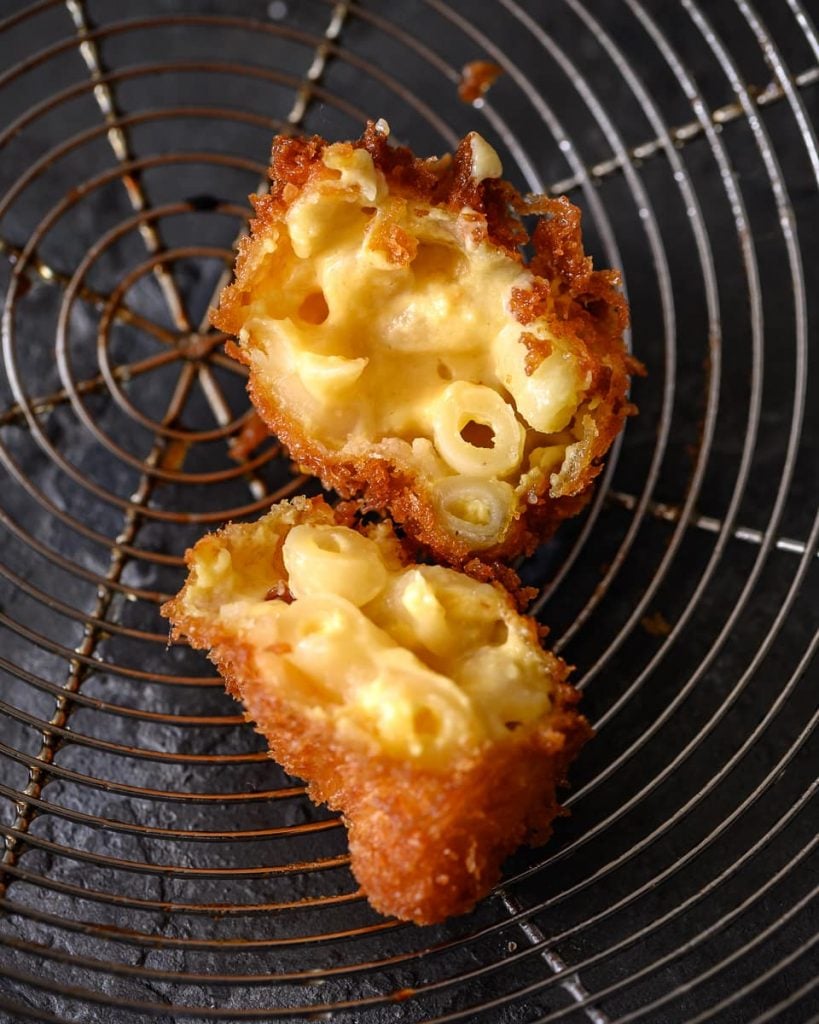 This Recipe Belongs To Julie Resnick