"A dessert you can eat straight out of the skillet? @saltandbaker has the right idea with this Pizookie! Loaded with brown butter and chocolate, this is the sweet treat you've been craving." – Julie Resnick.
Ingredients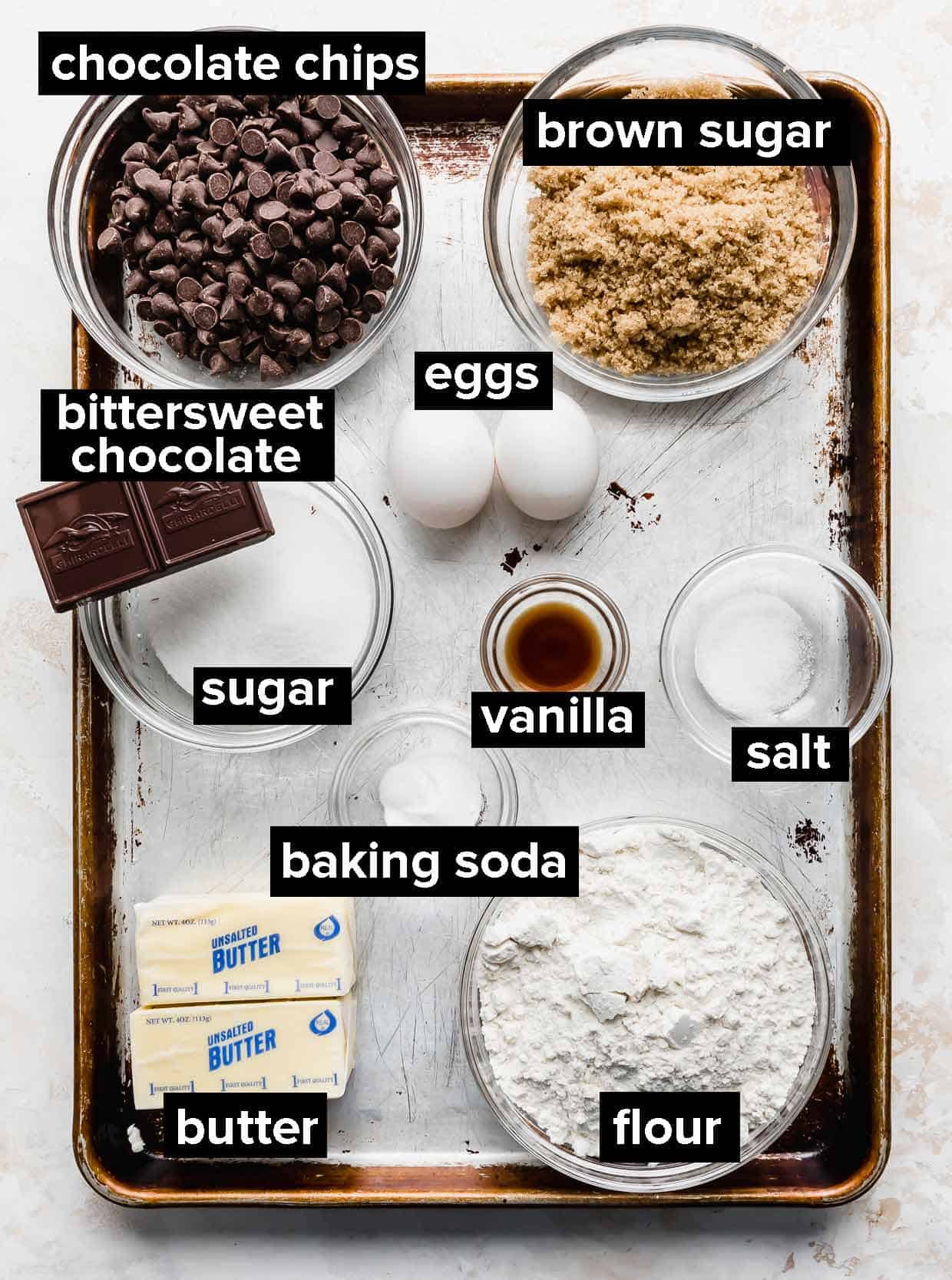 Butter: We need butter to keep our cookie tasting nice and rich but we are going to go one step further and actually brown our butter to enhance the flavors and richness.
Sugars: We want a combination of brown sugar and white granulated sugar to make sure that our cookie is sweet, chewy, and has a wonderful crust.
Chocolate: Using a combination of semi-sweet chocolate chips and chunks of bittersweet chocolate we can have a great variety of chocolate flavors in every bite. You can use milk chocolate or a combination of milk and semi-sweet, if preferred.
Step-By-Step Instructions
Brown your butter in a 12-inch cast-iron skillet over medium heat. As the butter melts it will turn foamy and have a nice amber color and nutty aroma to it, make sure to stir frequently while it browns, once browned, remove from heat. Stir in the brown sugar and granulated sugar until smooth.
Let the butter and sugar mixture cool down to room temperature for 15 minutes, this will help to keep from scrambling the eggs when we add them.
Preheat your oven to 325 degrees F.
Once the cast iron has cooled, add in the eggs and vanilla extract. Then add in the salt, baking soda, and flour. Mix to combine.
Stir in chocolate chips and chocolate chunks (including the shavings from the chocolate chunks). Spread the dough into an even layer at the bottom of the skillet.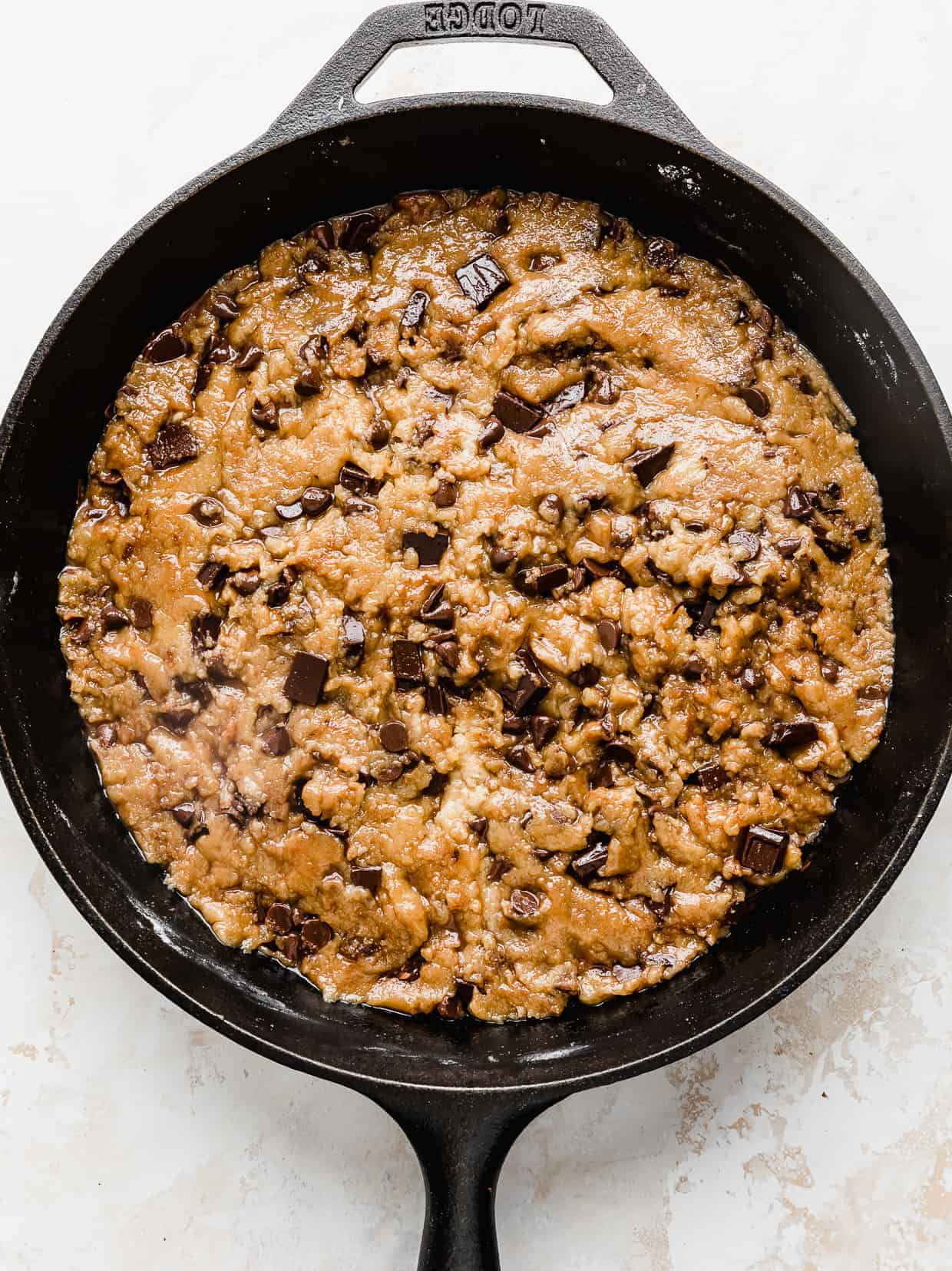 Bake for 26-32 minutes until edges are lightly golden and the center still looks slightly gooey. Do not overbake. Remove from oven and let cool 5-10 minutes before cutting and serving. Or top with a few scoops of vanilla ice cream and dig in. Enjoy!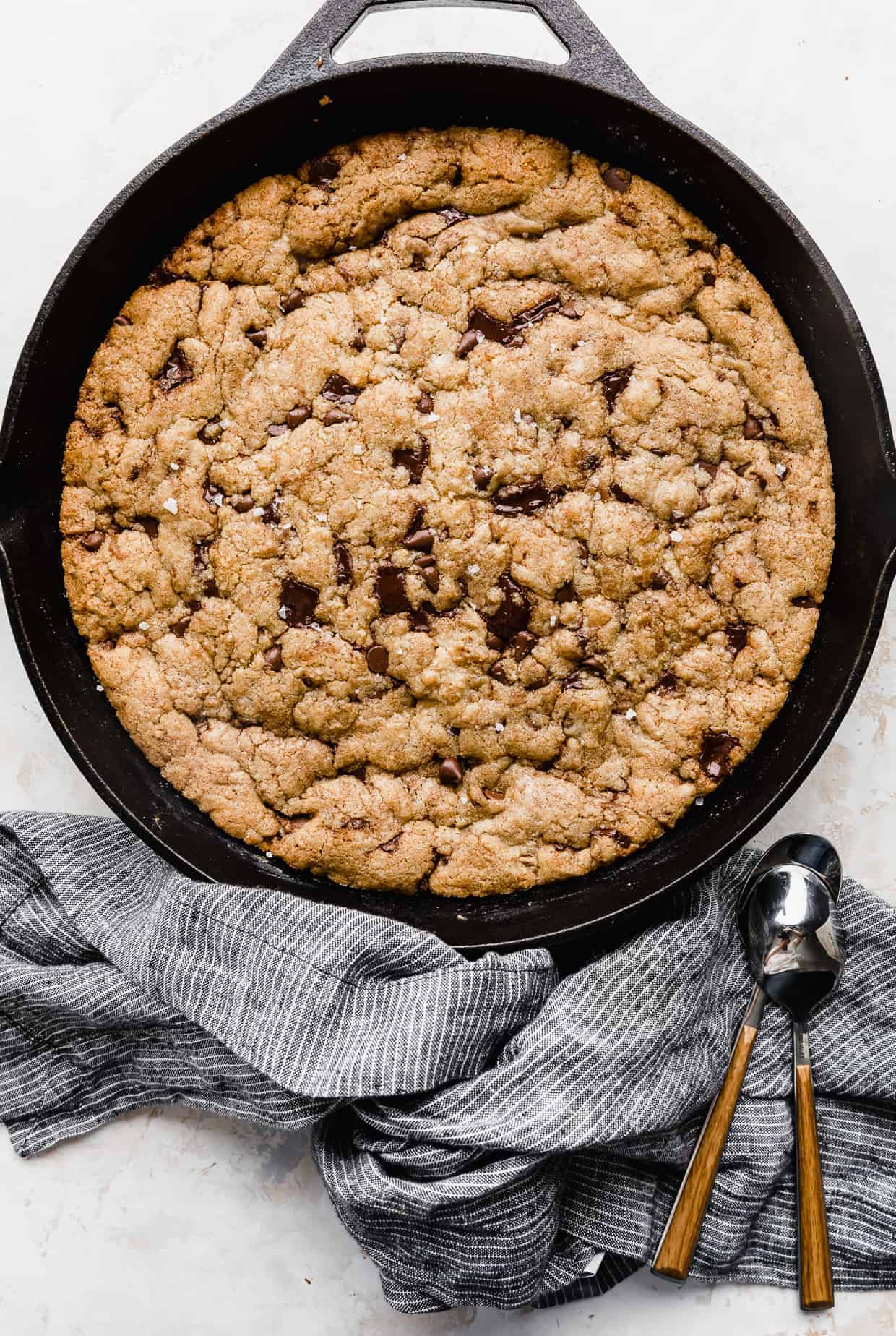 Expert Tips
If you're in a pinch and you don't have time to brown the butter, or you simply don't want to, you can forgo this step: simply melt the butter (without browning) and continue with the recipe as written.
Let the butter and sugar mixture cool down for about 15 minutes before adding the eggs. You can speed up this process by placing the skillet on a hot pad in the fridge. The sugar mixture should still be warm to the touch, but not hot.
Use high-quality chocolate for your chocolate chips and bittersweet chocolate. I personally prefer Ghirardelli brand chocolate chips and a chocolate bar.
If you prefer a sweeter chocolate, use milk chocolate chips or a combination of milk chocolate and semi-sweet chocolate chips in the cookie.
You can use a 10-inch skillet, the bake time will need to be longer as the cookie will be much thicker.
This Recipe Belongs To Julie Resnick